Digitalisation and Industry 4.0 have become an increasingly important topic in the oil and gas sector. Due to the fierce competition in the industry, in part, companies can no longer afford downtime of their plants due to malfunctions. Through digital transformation and intelligent solutions, problems and malfunctions can be solved quickly or avoided altogether, especially in maintenance and servicing in the upstream and midstream areas. Through maintenance solutions (predictive maintenance), companies gain deep insights into plant behaviour by digitally networking all work areas and continuously analysing data in real time.
The service life of plants and machines can thus be extended, the return on investment maximised and ultimately the profit increased. In order to be able to carry out these highly complex digital processes optimally on the hardware side, extremely robust, highperformance mobile devices with the highest explosion protection are required.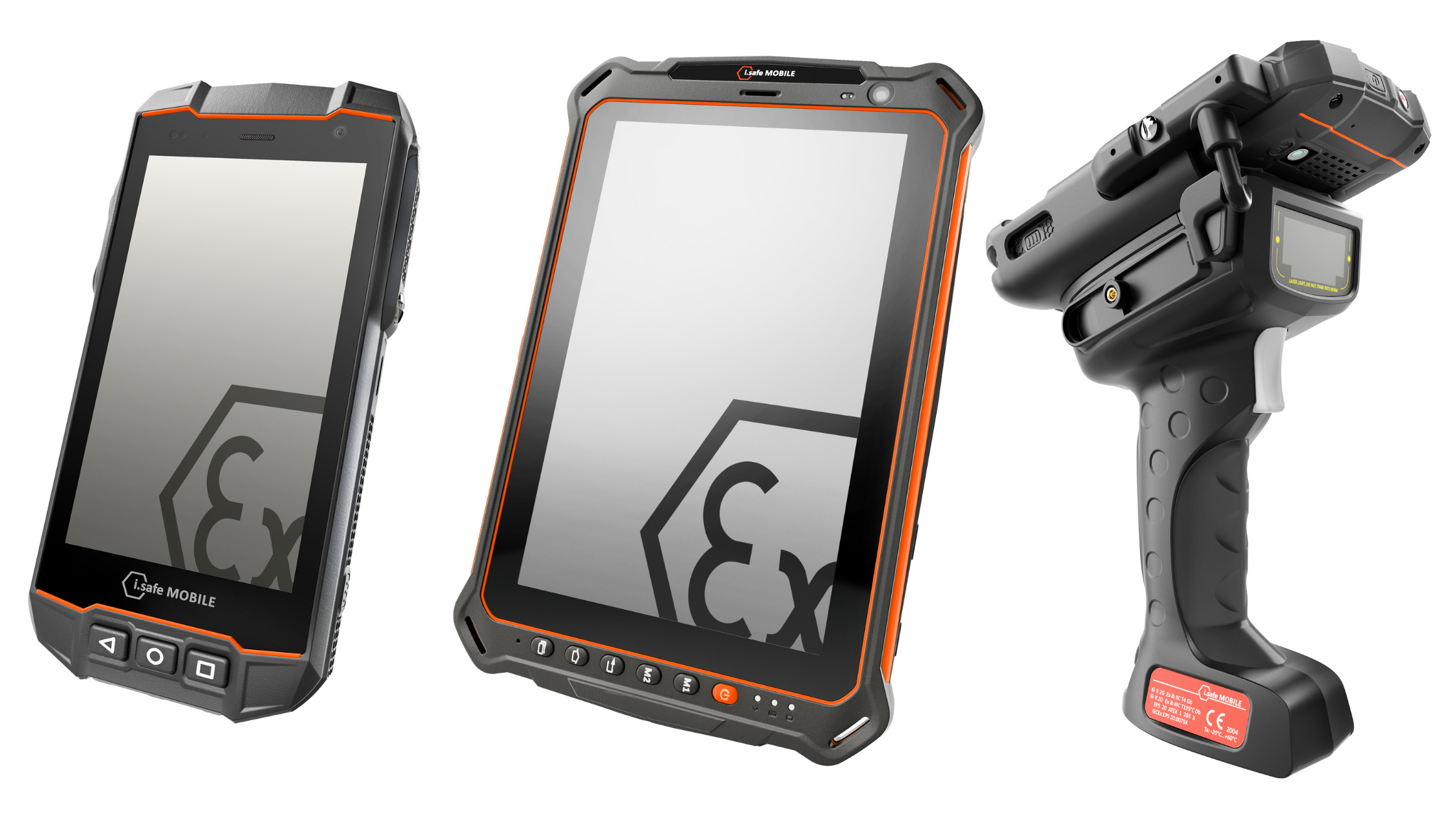 In hazardous offshore scenarios simple tasks like taking and processing photos, sending and reading emails, having permanent and secure access to the company cloud for getting any relevant information had often been just a pipe dream in the past. Scenarios in which overloaded workers in hazardous areas had to handle radios, mobile phones and tablets at the same time are becoming rare. This area is very much in flux and there is also a rethink taking place in the individual segments. One example is the switch from conventional radios to smartphone-based push-to-talk communication. This brings many advantages, such as the possibility for group PTT, videobased PTT and the ability to immediately enter images, videos and data of all kinds recorded on site into the company's own ERP system, e.g., through maintenance solutions. Due to the existing mature technical possibilities - both on the hardware and application side - the trend is clearly towards an all-in-one-device-strategy. This is exactly the mission that the company i.safe MOBILE pursues.
Innovation leader team for explosion-proof mobile devices and solutions
As innovation leader in the field of explosionproof mobile devices, i.safe MOBILE, based in Lauda-Koenigshofen (Germany), is always one step ahead with its innovations and offers smartphones, tablets and other mobile devices and accessories with the latest technology for the offshore and onshore sector (1/Cl I Div1). Numerous industry leaders around the world, including Fortune 500 companies, already count on the explosion-proof mobile devices and solutions of the company and appreciate the company's reliability, durability and competent support. Through its cooperation with solution partners, i.safe MOBILE is able to offer its customers a wide range of complete solutions, tailored to the respective area and requirements. The company cooperates with AMA (Assisted Reality/Digital Workflow Management), the SAP Gold Partner Evora Solutions (Mobile Maintenance/Mobile Workforce Management), the ICS Group (Supply Chain Digitisation), ProMobi (Mobile Device Management/MDM), Swissphone (Lone Worker Protection Solution), and Tassta (PTT solutions), among others. i.safe MOBILE devices combine a wide range of functions and applications in one single device and thus make working life much easier and secure.
High-performance, explosion-proof mobile devices for the hazardous area
For both the offshore and onshore sector, i.safe MOBILE offers devices that are Android Enterprise Recommended and can be deployed extremely quickly and easily in fleet operations thanks to zero-touch functionality. The mobile devices are certified according to ATEX and approved for Zone 1 for gases and Zone 21 for dust /21 or CSA Class I, II, III Division 1. In addition, the devices provide other internationally relevant explosion protection approvals such as IECEX, CSA, EAC and others.
The IS930.1 Industry 4.0 tablet is ideal for maintenance solutions in the IoT environment. The high-performance device has an 8-inch display, two freely programmable buttons, a long-life battery with 8400 mAh and can easily be used and carried thanks to a hand strap and a separate leather bag with a shoulder/ belt/crap system. The amplified loudspeaker guarantees good audio quality even in the noisiest environments. An eye-catching SOS button provides safety for lone workers through a separate LWP-app. The tablet is equipped with various sensors such as accelerometer, gyroscope, magnetic, temperature and humidity, proximity sensors.
The flagship of i.safe MOBILE's industrial smartphone range is the IS530.1, a powerful multifunction device. The Bluetooth 5 smartphone is Android Enterprise Recommended, zero-touch capable, MDM compatible, has a huge 64 GB internal memory and offers the highest camera resolution in its class. Additional accessories such as an RSM, PTT headsets or the IS-TH1 professional barcode scanner can be easily and securely adapted via a 13-pin interface and thus underline even more the multifunctionality of the IS530.1. This smartphone also has an amplified loudspeaker, an SOS button and an acceleration sensor, gyroscope, magnetic, temperature and humidity sensor, proximity sensor. In the hazardous logistics sector of the oil and gas industry, customers can even benefit from the flexible combination of the IS530.x and i.safe MOBILE's IS-TH1xx.1 high performance scanner for reliable data collection. The highperformance scanner is HID active and captures any 1D or 2D barcode with a range of up to 6 metres or distances of over 15 metres via Zebra OEM Imager Scan Engines. The captured data can be processed directly via the IS530.x smartphone (connected by the 13-pin interface) and entered into the company's ERP system - This time and resource-saving solution is ideal for the logistics sector in large refineries and seaports.
With the HMT-1Z1, a head-mounted tablet, i.safe MOBILE recently launched a groundbreaking product innovation. This device is the world's first voice-controlled tablet for hands-free working in hazardous areas 1/21 or CSA Class I, II, III Division 1. The Androidbased HMT has a high-resolution micro display which is well suited also for exterior use. Especially in the most demanding offshore environments customers appreciate the possibility of intuitive voice control and digital microphones with active noise cancellation. It is compatible for PPE (Personal Protective Equipment) and is perfect for assisted reality scenarios with highly complex remote support applications or remote training sessions.
All i.safe MOBILE devices in this category are IP68 dust/waterproof, MIL-STD 810G certified, can be operated from -20 °C to 60 °C even with gloves.
i.safe MOBILE GmbH is an international specialist and innovation leader for explosionproof and extremely resilient communication devices. The company develops and markets devices for the oil and gas sector, process industry, chemicals, pharmaceuticals and other industries with highest performance and safety requirements. All devices are safety and quality tested by established approval commitees based on European and worldwide standards. The devices are developed in-house from the ground up in Lauda-Koenigshofen, the company's headquarters. The company cooperates with reliable partners such as solution providers in the areas of push-to-talk, mobile device management, maintenance software and loneworker, among others, and offers complete solutions from a single source. i.safe MOBILE is represented by a subsidiary in Singapore and Moscow and sales partners in 72 countries in Europe, the USA, Latin America, South Africa, the Middle East, Australia and Asia.
Source: Oil And Gas Innovation Magazine